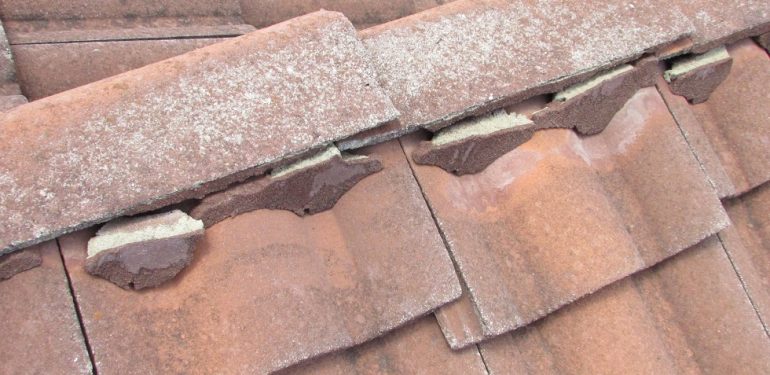 Hip and Ridge Tile Deterioration
The deterioration of hip and ridge tiling bedding mortar and flexible jointing compound is a common issue for homes in Perth, particularly with roof coverings that are over 15 years old.
Roof tile bedding mortar is a blend of cement, sand and other additives, designed to bed ridges, barges and apexes on tiled roofs. Once tiles have been bedded, they can be re-pointed with a flexible jointing compound.
The below points explain why it is important to have an experienced roof tiler undertake works to maintain the roof covering if tiling is coming loose as a result of movement or deterioration over time due to age.
It can pose a safety hazard
In strong wind, loose tiles may become dislodged and injure people.
Moisture may enter the roof space
Gaps may become evident where tiles have become loose and bedding mortar/jointing compound has
deteriorated. This could result in rain or other sources of moisture entering the roof loft space and causing water damage.
The integrity of the roof covering is inferior
As the bedding mortar and flexible jointing compound deteriorates, the overall integrity of the roof covering
declines.
The cost of maintenance is less than the cost of replacement and Cap-It-All Building Inspections Perth are
dedicated to ensuring you're aware of the upcoming maintenance for the home you're purchasing. Cap-It-All's Comprehensive Building Inspection Perth will provide a plethora of information including maintenance that is
required to your roof covering.
This article was written by Charlotte Flatt of Cap-It-All Building Inspections Perth.