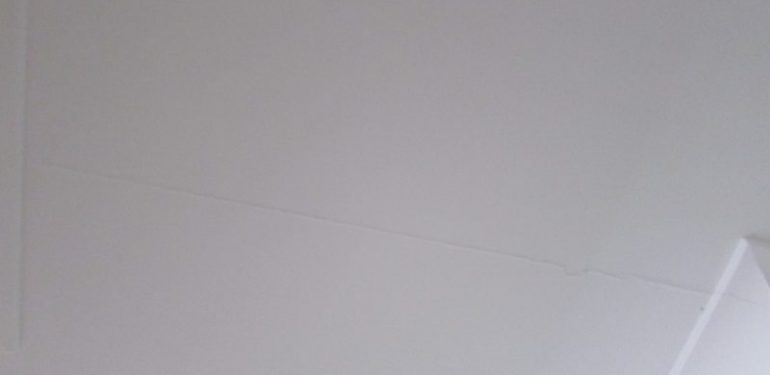 Minor straight cracking to ceilings can be common in properties new and old.
In new homes ceilings should be finished in the following way in accordance with Australian Standard 2589: Gypsum linings – Application and finishing:
AS/NZS 2589 Gypsum linings – Application and finishing – Clause 3.1.4 – Level 4
Level 4 finish
A Level 4 finish shall be the default level for gypsum lining, unless specified otherwise.
Flat or low sheen paints shall be used for this Level 4.
All joints and interior angles shall have tape embedded in jointing cement/jointing compound and a minimum of two separate coats of jointing cement/jointing compound applied over all joints, angles, fastener heads and accessories.
All jointing compound shall be finished evenly and be free of tool marks and ridges in preparation for decoration.

Notes:
In critical lighting conditions, surface imperfections may still be apparent in a Level 4 surface finish.
Where gloss, semi-gloss and deep tone paints are used, surface imperfections will be more evident.
Further issues can occur after key handover if heavy air con ducting and the like is rested on the ceiling and not suspended above it.
In older properties straight cracking and ceiling board movement/separation can be consistent with normal settlement. Where sagging, more significant cracking or popping fixings are evident it is important to engage a professional to inspect the ceiling and roof loft space to ensure the ceilings are correctly fixed and issues such as adhesive failure are not occurring.
At Cap-It-All Building Inspections Perth we inspect and report on defective ceilings as part of our Comprehensive Building Inspection.
Contact us today to arrange a free quote.
Written by: Charlotte Flatt
Cap-It-All Building Inspections Perth