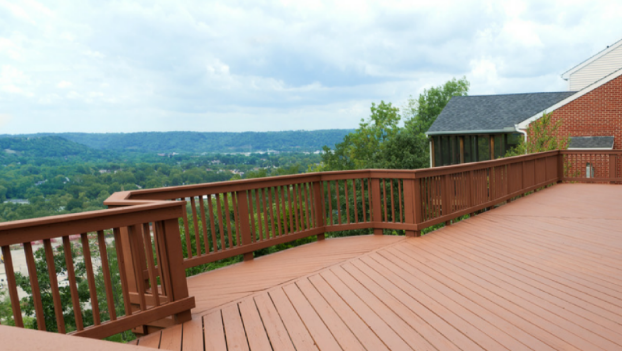 Questions to ask before Building a Deck
While the construction of a backyard deck is well within the skills of many home owners, knowing the ins and outs can help you avoid costly and time consuming mistakes. You'll want to carefully examine your options in location, local building codes, and materials before you proceed.
Before you set out building the deck of your dreams, here are the things you should be considering.
Locating Your Deck
If local building codes and conditions allow, attaching a deck to, or positioning it next to your home, or main structure is ideal. This allows the deck to be accessed from inside, making the transport of furniture, food, and other items simple and convenient.
The slope, or any drop from the floor level of the structure to the deck should be considered and appropriate steps designed for safety.
Large plantings, such as trees and shrubs may be best removed or relocated.
You'll want to locate your deck on solid ground and provide adequate footings. Make sure the location you choose allows for that.
Local Building Codes
Building codes are primarily concerned with safety, but in some cases may also address the aesthetics of your structure. You'll need to check with appropriate government offices in your area to find out if permits are required and any specific regulations there may be. All decks and balconies built in Australia must comply with the National Construction Code (NCC), which provides the current requirements for new building work throughout Australia. Check out NCC resources here.
Here are some general guidelines:
Even without codes, framing should be sized and spaced similar to house flooring to ensure safe and sturdy use that will last.
Rails will need to be installed on decks with more than a 10 inch drop from edge to ground level, in most cases. Rail height and support spacing is also typically regulated.
Stair size, placement and safety rails should be considered. Building codes can provide specifics on minimums, but your goal should be to provide safety and convenience beyond this if necessary.
Materials
Your local codes may require specific materials, but in general, this is left up to the owner.
Wood decks are simple and beautiful to build, but require more maintenance. Be sure to calculate the cost in time and money.
Composite decking materials incorporate permanent color and typically require less frequent repairs.
Be sure to thoroughly compare costs before deciding, as material choice can increase your budget drastically.