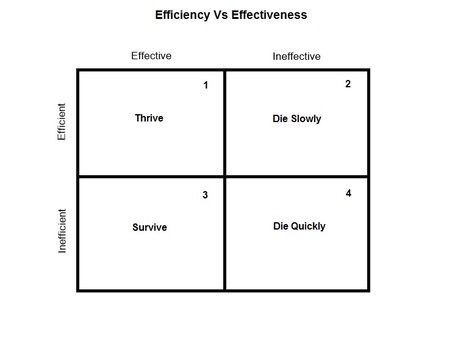 Effectiveness Vs Efficiency – Getting the balance right
What makes a business the best at what they do? 
The answer lies within an optimum mix of being efficient and being effective.
What's the difference between efficiency and effectiveness?
To be efficient is to maximise productivity in a systematic, organised fashion – in other words to achieve outcomes as quickly as possible without it affecting the quality of your product.
Effectiveness is a measure of producing the best possible outcome.
Some businesses focus on effectiveness and produce a brilliant product. However without combining this with systems which help you produce this product in an ideal timeframe, a customer may become unhappy with the time taken to generate the product.

Similarly, some businesses may focus on creating an efficient system, especially in today's technology-focussed environment. Although being able to generate products at the touch of a button can save a business time, it is important that the quality of the product is not sacrificed in the process.
In the building inspections Perth industry, there are many franchises and independent businesses which have created an efficient system (through an iPad/iPhone App or something similar) but the quality of the report suffers since there are only certain items the Perth building inspector can click/report on. Comparable to this, many inspectors use a "tick box method" in which they only have predefined boxes to tick and do not investigate any further than this which may result in less defects being uncovered or less understanding as to why the defect has been caused and what can be done to remedy it. It is important to recognise that if a Perth building inspector claims they will send your report to you straight from the property, it is likely that they're efficient in what they're doing, but their report may not be as detailed or as well-understood by the inspector as it could be.
At Cap-It-All Building Inspections Perth the inspector will always return to the office after completing the inspection and discuss any possible defects with other experienced members of staff, so that together the team can determine the exact circumstances of a defect, how the defect can be remedied and who is liable to fix the defect. Cap-It-All Building Inspections Perth have a point of difference in comparison to other Perth building inspectors as each member of the team possess different skills and experience, so by effectively communicating with each other the team can determine the best possibly solution for your situation. As well as this, inspectors are on site for an average of 2-3 hours (for a building and pest inspection Perth) which based on the team's feedback from real estate agents and sellers, is much longer than most other inspectors. If your Perth building inspector is on site for less than one hour when producing your building inspection report they may not be providing you with as much information as possible.
Additionally it is important to the Cap-It-All Building Inspections Perth team that you understand every aspect of your report and have all of your queries answered. This is why we follow up with a phone call when it is convenient toYOU and not immediately from the property before you've had a chance to read your report.
If you're looking for a thorough, comprehensive building inspector but would also like to receive your report within 24 hours of the inspection taking place, contact Cap-It-All Building Inspections Perth now.