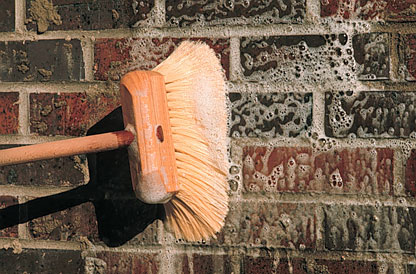 How to Clean Bricks – A Cap-It-All Building Inspections Guide
Most skilled bricklayers clean their work at the end of each working day, meaning minimal cleaning is required to get the finished look required for brickwork. However, unfortunately there are occasions where poor DIY jobs or workmanship leaves excess mortar visible to brickwork.
Methods of cleaning bricks

Firstly, mortar 'lumps' should be scraped or physically removed from the surface of the masonry, leaving only the mortar staining left to rectify. Many methods exist to clean excess mortar stains on brickwork. In all instances the manufacturer's instructions should be followed and appropriate PPE should be worn. The following methods are discussed in greater detail:Using Brick acid (hydrochloric acid)
The cheapest and most common agent for removing mortar that has been allowed to harden
is a solution of hydrochloric acid diluted with water. The following steps should be taken when mixing the solution:
1. Select a well ventilated area for mixing, although be sure not to mix in a windy area or an area where the acid may come into contact with other hazardous materials.
2. ALWAYS ADD THE CONCENTRATED ACID TO THE WATER.
3. Only use earthenware, glass, or heavy duty plastic containers
4. Whilst mixing be sure to wear appropriate PPE, including goggles and rubber gloves. PPE should be tight to the skin, to minimise the risk of acid coming into skin contact in those areas.
5. Avoid splashing of acid into water and be aware of your surroundings. Not only may there be hazardous substances in your surroundings, but there may be materials such as concrete masonry that may be attacked or discoloured as a result of spillage. Polished stone and metal surfaces are likely to become permanently defaced should they come into contact with acid. Brick acid should never be used on limestone products or in instances where vanadium removal is necessary.
Different bricks will require a different mixing ratios. For example, bricks that are lighter in colour or particularly sensitive to high concentrations of acid will require a water to acid ratio of 20:1. It is recommended that this mix is initially used in all circumstances. For darker bricks or particularly tough stains, the ratio may be increased to 10:1.
Upon mixing of the solution, the following steps should be taken:
1. Wet down the bricks prior to applying the solution. Failure to do so may lead to staining of the bricks known as acid burn, as acid will soak into the brickwork and dissolve the iron within the brick.
2. Apply the solution using a thin bristled brush. The use of stiff bristles may damage the masonry itself as opposed to removing the excess mortar.
3. Wash the affected area clean with water.
Other acids & cleaning compounds
Other acids & cleaning compounds may be available to clean excess mortar from brickwork. Care should be taken when selecting these products. Some of these products are not suitable for masonry and may even cause destruction of the masonry units via salt attack.
High pressure cleaning
High pressure water may be used to remove excess mortar from affected brickwork, although the incorrect selection of nozzle or incorrect use of the jet may lead to damage of the masonry product. The following precautions should be observed:
(a) Use a maximum pressure of 7000 kPa.
(b) Use a wide fan spray nozzle (15° to 20°).
(c) Keep the nozzle about 500 mm from the wall and never closer than 300 mm.
(d) Test the procedure first on a section of wall that is less noticeable.
In all instances of cleaning it should be noted that the excessive use of water may contribute to moisture problems as well as increase the likelihood of efflorescence. If you have any concern, please contact a suitably qualified professional.
Will my Perth building inspector check for areas of excess mortar?

Excess mortar is generally a cosmetic issue and as such, although it may be reported on as part of a comprehensive pre-purchase building inspection, it would not be deemed a structural issue and as such will not be required to be fixed by the seller prior to settlement.

Cap-It-All Building Inspections Perth

will advise on the above techniques where necessary, as we aim to assist all our clients in purchasing a structurally safe home, and assist in the development of a maintenance schedule to ensure you are happy with the quality of your home.If we are conducting your stage or practical completion inspections on new build homes, excess mortar will be classified as a workmanship issue, as no direct reference is made within the masonry code. As such, your building inspector will need to draw on their expertise and experience to express an opinion as to whether the work is defective. For this reason it is important to choose a building inspector that can adequately determine workmanship defects whilst conducting a building inspection, and an inspector who understands the processes involved should the builder refuse to rectify the defective work.

Visit the

Cap-It-All Building Inspections Perth

website to book your         Pre-Purchase Building Inspection.
Author: Lewis Flatt – Cap-It-All Building Inspections, servicing the Perth Metro Area