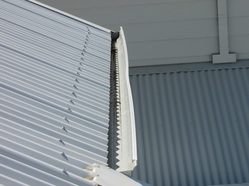 How Mistakes by Your Builder Can Impact Your New Home
Builders usually want to genuinely do a good job for you and keep you as a new home builder happy. However with overworked supervisors, underpaid trades and little training/no licensing comes mistakes within the build. 
This picture shows gutters which are not clipped/secured to the property on a newly built home. This was identified by our inspectors during a practical completion inspection.
The moment rain or debris begin to fill these gutters it is very likely they will fall right off.
When you're paying hundreds of thousands of dollars for a new home, these kind of mistakes are the last thing you would expect. Unfortunately we are finding defects like this during most of the New Home Building Inspections we undertake.
This is a minor issue but could cause you both inconvenience and develop into a bigger problem if heavy rainfall was to occur. Cap-It-All Building Inspections Perth are regularly identifying these kinds of minor defects within new homes but what is more alarming are some of the more major, non-compliant defects we are identifying.
If you're building a new home our recommendation is to have it inspected by an independent inspector at each stage of the build (slab down, plate height, roof framework, lock up and practical completion). This way we can inspect all areas of the property and defects will not be concealed by finishings such as tiling, paint and floor coverings.
Contact Cap-It-All Building Inspections Perth for a quote on conducting New Home Building Inspections during the build of your new home.