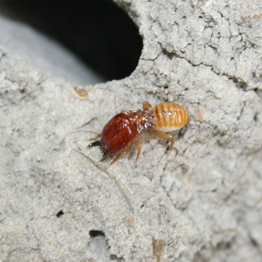 Termites Eating Concrete – Is this possible?
Termite attack is a real problem for residential homes in Perth and stories often emerge of untold damage caused by termites. Whilst studies have accurately identified that the average damage that termite attack causes to a home is $7,000, at what lengths will termites go to cause destruction to your home? It has been speculated that termites are capable of working through concrete in residential buildings, and as such studies were undertaken to see if this is possible.
What has been said about a termite's ability to forage?
A worker termite's role is to continue to forage until a food source (preferably moist timber) is found. Termites may also nest in damp conditions, such as under concrete floor slabs of a building, and are notoriously shy creatures. As such termites will forage in areas of concealment such as under floor coverings.

Reports often surface of termites eating timber flooring laid on concrete slabs, and so the CSIRO conducted studies to determine whether termites could in fact 'eat' or 'forage' through concrete slabs in a residential building. Test cracks were also made through the slabs to determine the minimum size in crack width a termite requires to enter the interior of the building.
What testing was carried out?
Two test slabs were placed in both a tropical climate (near Darwin, NT), and in a semi-arid climate (near Griffith, NSW). Both these locations have a history of aggressive (but different) termite behaviour.

In each location 300mm square by 70mm thick slabs were installed using 20, 15, an 10 MPa concrete. This slab thickness is under the allowable minimum thickness as per AS 2870, being 85mm in our Perth sandy soils. Cracks were located centrally to the slabs and its width fixed by means of a steel plate either side of the crack. The cracks simulated shrinkage or temperature induced cracks which extended the full depth of the slab, ranging in width from 0.4 to 2mm.

The study was undertaken over a three year period, with inspections of the slabs carried out yearly.

What were the results?
It was found that termites required a clear passage of 1.4mm to travel through a concrete slab-on-ground. Concrete slabs constructed in accordance with AS 2870 are generally expected to have crack widths less than 1mm, therefore it is deemed that termites will not be able to forage through concrete slabs as long as they are built in accordance with Australian Standards.

One of the main reasons that the result of the crack sizes were a lot greater than anticipated is that termites had to build their mud tunnels through the crack. This is most likely due to the abrasive sides of concrete not allowing a termite's soft body to navigate a clear path through, as well as their body temperature not being as regulated as required due to building temperature changes..

It was also noted that the only crack which was physically widened by termites were those in the slab constructed of 8MPa concrete, with concrete poured in Perth generally of 20MPa or greater for a residential building.

As such a residential concrete slab may be considered an adequate barrier for termite protection given that cracks do not widen by more than 1mm, as stated in AS 3660.1. However, certain areas such as slab penetrations for plumbing pre-lay should have additional adequate termite protection.

How will a building inspector assess cracking in residential slabs?
When conducting your slab inspection, generally any cracking will be inspected in accordance with AS 2870. In terms of termite attack, you should ensure that any cracks greater than 1mm are monitored during the build process. An adequately qualified inspector will understand the reason for the cracking, and as such be able to reasonably advise the likelihood of the cracking extending the full depth of the concrete slab. For example, plastic shrinkage cracking may be 1.5mm at the surface, but taper to a point that will not allow termite entry. However, should the crack extend the full depth of the concrete slab your building inspector should report that the cracking is non-compliant in accordance with two building Australian Standards.

At Cap-It-All building inspections Perth we are adequately trained and qualified to conduct building and timber pest (termite) inspections. As such we understand the habits of termites in Perth and also the Australian standards and building provisions that apply to the surrounding building elements. To view more information on termites click here or visit www.cap-it-allbuildinginspections.com.au for further information on building, termites, or to book an inspection. 
Author: Lewis Flatt of Cap-It-All Building Inspections Perth – Servicing the Perth Metro Area