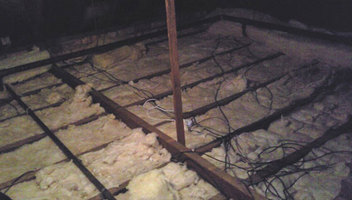 Safety Warning – How Faulty Electrical Wiring is Affecting WA Homes
Fires caused by faulty electrical wiring are leading to many deaths in Perth. Uninsulated wiring can also cause electrocution. Cap-It-All Building Inspections Perth are finding loose electrical wiring within roof spaces that are not contained within junction boxes with every few inspections undertaken. 
| | |
| --- | --- |
| If an unconcealed wire is touched by a person, the person is at risk of electrocution. Additionally, loose wiring can overheat or come into contact with combustible materials, fuelling fires. If a fire occurs within a roof space the fire is likely to spread quickly before being detected by the smoke alarms installed within the home, as they are usually installed on the ceiling of the interior of the home. Since 1986 the Australian Standard for Wiring Rules has included mandatory requirements for electricians to allow for the de-rating of electrical wiring due to their proximity to insulation – a highly combustible material. Prior to this no requirements existed. This makes it especially important for older homes to be inspected for exposed or faulty electrical wiring within roof spaces in Perth. | |
Below are some examples of homes in WA that have been affected by fires caused by electrical faults.
http://www.abc.net.au/news/2015-05-06/house-fire-caused-by-electrical-fault/6448188
https://au.news.yahoo.com/thewest/wa/a/28273694/electrical-fault-sparks-house-fire/
http://www.abc.net.au/news/2015-07-23/building-fire-in-perth-suburb-of-mount-lawley/6644140

Here are some ways you can prevent a house fire caused by an electrical fault:

Never undertake your own electrical work unless you are a qualified electrician or contractor. Not only is it illegal, it is very dangerous to do so.

Use a registered, licensed electrician for all electrical wiring jobs.

Ensure the electrician connects any work they undertake up to the relevant Residual Current Device (RCD) and tests the RCDs to ensure they are working at the correct speed.

Minimise the use of power boards or double adaptors in your home, as they can overload power points. Have your electrical contractor install enough power points so that temporary adapters and power boards can be removed.

If the house is unoccupied, do not leave on electric blankets or similar appliances.

Eradicate pests and have the roof space inspected regularly. Mice and rats can eat through the insulated wiring in the roof space and ants often nest in power points.


Remember that once you sign on the dotted line of your offer and acceptance contract, you accept the liabilities of the house including rectifying any faulty electrical wiring issues at your cost unless otherwise stated in your contract. When purchasing a home the below suggestions may help you to protect yourself with relation to exposed electrical wiring within roof spaces in Perth:

Request the details of any electrical contractors who have completed work on the property previously, especially if the property has been recently renovated.

Consider stating that any exposed electrical wiring within roof space of the house you are purchasing should be put into an electrical junction box at the cost of the seller by settlement.

Ensure that when you purchase a home it is inspected by a Building Inspector who can identify loose wiring within the roof space of the property. If found, the inspector should be able to advise you on necessary steps to take which will likely include hiring a qualified electrician to put the loose wiring within a junction box. 

An electrical junction box is a container for electrical wiring or connections, usually intended to hide them from vision and discourage interfering. A small plastic or metal junction box may form part of a thermoplastic-sheathed cable (TPS) wiring system or electrical conduit in a building.
Cap-It-All Building Inspections Perth are currently undertaking research and recording each of the houses inspected by our business that have loose wiring within roof spaces in Perth. Our business will use this data to present to the local government, to try to change the worrying statistics emerging with regard to the amount of house fires being caused in WA as a result of faulty electrical wiring.