Fire safety in the home is an extremely serious issue and as such it is governed by building codes, regulations and legislative requirements. The Building Regulations 2012 (the Regulations) require the owner of a dwelling to have compliant smoke alarms installed:
prior to the transfer of ownership;
where a dwelling is rented under a residential tenancy agreement or made available for such rental;
where a dwelling is made available for hire.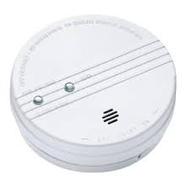 The BCA states that a Class 1 building (residential) is to be provided with safeguards so that occupants are warned of a fire in the building so that they may safely evacuate.
How does a smoke alarm work?
There are two types of smoke alarms:
Photoelectric: This type of smoke alarm uses a light source and photocell. As the smoke enters the detection chamber it interferes with the light beam which in turn causes the alarm to sound.
Ionisation: A small amount of radioactive material is used to create an electrical current which travels through ionised air. When smoke enters the detection chamber it impedes the flow of current and causes the alarm to sound.
Smoke alarms are extremely sensitive and may detect smoke and moisture created by common household activities (such as burnt toast or steam from a bathroom).
Accordingly, to reduce the likelihood of nuisance alarms, the smoke alarm should not be located near cooking appliances and bathrooms. However, if it is necessary to locate alarms in these positions, an ionisation type alarm is more suitable near bathrooms, while a photoelectric alarm may be used near cooking appliances. The DFES recommends installation of photoelectric alarms.
Where are smoke alarms required around my home?
When deciding on the position of smoke alarms it is important to remember that they are intended to detect smoke before it reaches the sleeping occupants of a building.
The ensuing alarm is designed to wake the occupants and give them time to evacuate the building.
Generally smoke alarms are located in hallways where bedrooms adjoin. However the introduction of deemed-to-satisfy provisions within the BCA gives the appropriate authority added flexibility when considering the position of smoke alarms.
For instance, in Class 1a buildings if the Deemed-to-Satisfy Provision states that the smoke alarm should be located in the hallway, and there is a bathroom adjacent this location (that will potentially cause nuisance alarms) the appropriate authority could accept the alarm being installed in the bedroom as a suitable option using the performance clause.
This approach should also be adopted when considering sleep-outs or similar type residential buildings that are not connected to the remainder of the building by a hallway or other enclosed structure. In these situations the alarm could be located in the room itself.
It is also worth noting that smoke alarms should be located on all storeys of a building, regardless of the presence of bedrooms. Care should also be taken to ensure that smoke alarms are not positioned in 'dead air spaces', such as the corner junction of walls and ceilings.
What is a compliant smoke alarm?
Smoke alarm installations should comply with AS 3786.
To comply with smoke alarm Regulations, owners must ensure that the smoke alarm(s):
a) Are in accordance with the Building Code of Australia (BCA) applicable at the time of installation of the alarms* (the BCA specifies the minimum standards and location that smoke alarms must comply with); and
b) Are not more than 10 years old at the time of the transfer of ownership, or making the dwelling available for rent or hire; and
c) Are in working order; and
d) Are permanently connected to consumer mains power**.
*Please note: dwellings approved for construction prior to 1 May 2015 do not have to comply with the BCA requirement for smoke alarms to be interconnected.
**Special provisions may apply if an existing smoke alarm is unable to be connected to mains power (such as the bottom of a suspended slab). Please contact the relevant authorities or a licensed electrician for further details.
Special consideration must also be given to properties located within bushfire prone areas. Contact your local council or engage in a suitably qualified person for further information.
How do I maintain a smoke alarm?
The Regulations do not specify what is required in order to maintain a smoke alarm in working order. DFES recommends the following smoke alarm maintenance routine for property owners / landlords:
Check the alarm(s) are firmly secured in the correct location as per the Building Code of Australia requirements. (Double sided tape is not acceptable).
Check the required power source is connected and operating. Where a mains powered smoke alarm is installed, alarms will have a visual display / light to indicate that mains power is connected and this should be easily seen when standing beneath the alarm.
Test the smoke alarm during routine inspections, or at least every six months.
Check the smoke alarm(s) for a build-up of dust and cobwebs.
Vacuum around the smoke alarm vents with a soft brush at least every 6 months.
Use a surface insect spray around the smoke alarm to prevent insects nesting inside.
Check the smoke alarms are within their service life. Smoke alarms require replacement every 10 years. The date for replacement is often located on the unit.
Replacing batteries annually, where appropriate. Mains powered smoke alarms have back-up batteries – they can either be a 9V battery which requires to be changed annually while some models have a rechargeable non removable battery which does not need to be changed during the life of the unit. Always refer to the manufacturer's guide when selecting batteries and follow testing procedures.
Penalties may apply for non-compliance of smoke alarm laws. Aside from BCA requirements, information on smoke alarms may be found on the department of commerce or DFES websites.