When combustible materials such as insulation come into direct contact with fittings or appliances such as downlights, your home is at risk to the threat of fire. FESA research shows downlights can heat up to more than 240 degrees.  Old or poorly installed ceiling downlights are thought to cause at least one house fire every week in Western Australia. They can set fire to roof insulation or timbers which burn in the roof space above smoke alarms. These fires can go undetected until it is too late. Often, people only know their house is on fire when flaming material comes through air conditioning vents or the ceiling collapses. It makes a safe escape more difficult and causes significant damage.
Which materials pose the greatest risk?
Bulk insulation (Blankets or Batts), loose fill (glasswool, mineral wool or cellulose fibre), or reflective (metallic foil material) are the types of insulation that are commonly used within residential property. Research indicates that the material posing the highest risk of fire is cellulose loose fibre insulation. This is often due to the material easily moving around within the roof loft space and coming into direct contact with fittings. You may also be at greater risk of fire and should inform your installer before they commence work if you have the following items in your roof:
dichroic or halogen downlights;
electrical wiring installed before 1999;
gas or combustion heater with a flue going through the roof;
high intensity heating lamps; or
electrical items, such as exhaust fans and water heaters.
What are the required clearances?
The diagram provided illustrates the general clearances required around downlights.
Different clearances are required depending on the type of globe. The hotter halogen globes are required to have the greatest clearance to the insulation or framing. A licensed electrican or EnergySafety should be consulted if further information is required.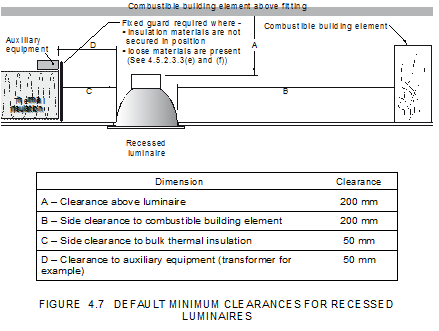 Are there any alternatives to providing clearances around downlights and additional electrical items?
An alternative solution to providing clearances within a roof loft space is the installation of downlight covers. A variety of downlight covers are available on the market. These downlight covers may allow insulation to be installed up to the side of the downlight cover, and in some cases may allow insulation to be installed over the top of the cover.
While it is the architect/building designer's responsibility to supply a product specification and fully detail these covers and their location on the electrical plans, it is recommended that homeowners explicitly request certification on compliance.
What can I do to reduce the risk of fire within my home?
The following may be undertaken within your home to reduce the risk of fire:
If loose fill insulation is being installed it is recommended barriers are installed to ensure clearance around potentially hazardous fittings.
Following any work in your roof space, request your licensed electrical contractor or insulation installer to inspect all downlights and transformers to ensure they are clear of insulation or other combustible material
Always use fittings and guards that meet Australian Standards
Ask a licensed electrical contractor to inspect all downlights and transformers
If insulation is being installed in existing properties, ensure that the installer is made aware of the electrical fittings you have prior to installation.
Consider replacing 240 volt incandescent globes with compact fluorescent globes that produce less heat.
Consider replacing 12 volt halogen (dichroic) globes with Light Emitting Diodes (LED) that produce considerably less heat
Conduct regular inspections to ensure that there is adequate clearances around light fittings. If you should go into the roof loft space yourself, ensure that power is turned off at the mains.
All electrical work must be carried out by a licensed electrician, although many DIY'ers opt to install insulation themselves. Great care must be taken to ensure that all compliance standards are met, and a licensed electrician is recommended to inspect any work undertaken after installation.