Diversion of water away from a properties structure is a fundamental structural consideration when designing a home. However, water diversion is often overlooked when designing a home, as many new homebuilders do not include soak well installation as part of the building process.
What can be done to prevent foundation movement due to excess stormwater or surface drainage?
Installation of Soak wells are the most common form of water diversion in Perth.  Soakwells come in many forms including concrete, PVC & polypropylene.  Soakwells should be installed & adequately connected to downpipes. Surface diversion should also be applied to additional areas of water run-off such as air-conditioning & hot water system overflows. The ground in these areas should be graded to fall 50mm over the first metre away from the property.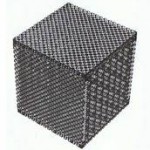 What are the requirements of Soak well installation?
Care should be taken to ensure that soakwells have adequate capacity to allow for rainfall & excavation does not cause poor compaction close to your property. The following rules apply to soakwell installation:
As a general rule thumb soakwells should be installed 1.5 -1.8 metres away from any footing or boundary.
Depending on the piping used, clearances will apply between finished surface levels & the top of pipework. For example, for single dwellings not covered by pavement or concrete, a minimum cover of 100mm will apply to the top of finished ground level to the top of PVC piping.
Separations & clearances are also required around electrical & gas pipes. AS3500.3-2003 should be complied with, & if any doubt exists a competent & suitably qualified person should be engaged.
Where drains are laid parallel to a footing, the trench shall be located –

(a) in accordance with the housing provisions of the BCA clause 3.1.2.2(d);
(b) for single dwellings, as shown in the diagram & table provided; and
(c)  for all others, as determined by a suitably qualified competent person.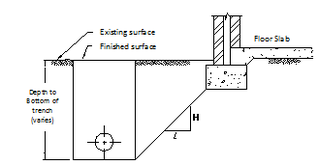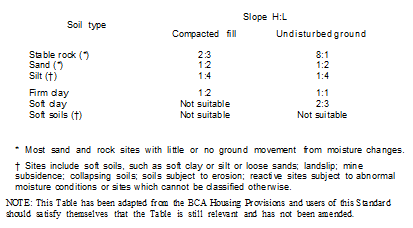 How many soak wells will I require for my home?
The majority of local councils in Perth have used the 1 in 20 year rainfall event to calculate the recommended volume of soakwell. Generally, this equates to the catchment area (m²) multiplied by 12.5, as shown below.
Volume of soakwell (L) = Impervious area (m²) x 12.5
Working on an average home area of 220m2 & a concrete soakwell size of 900 x 900 (580L capacity), 5 soakwells require installation. Your local council should be contacted to confirm soakwell installation recommendations.
I live in sandy soils, is my property less likely to suffer from foundation movement?
Sandy soils are less likely to suffer from foundation movement, however it must always be remembered that ALL soils are affected by water. Silts are weakened by water and some sands can settle if heavily watered. However, most problems occur with clay foundation material.
This type of foundation material has traditionally been known as "Bay of Biscay" soil because of its continual movement during the changing seasons.Clay soils will swell when wetting & shrink when drying. Clay soils are referred to as reactive soils. The amount of movement in a soil determines the classification given to them.
What can I do?
The following practice will assist in minimising the risk of building failure in reactive soils:
Divert all water away from the building area
Avoid over watering of lawns and gardens adjacent to building areas
Construct concrete or other impervious pavements around the perimeter of the building
As the above demonstrates stormwater & surface drainage can be a specialised subject. If you are building we recommend that site works are included within the building contract, or a suitably qualified person is engaged to ensure site drainage is adequate for your home.