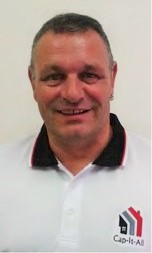 Mark Flatt: Mark has been proprietor of two building business' in the UK prior to the family emigrating to Perth in 1995. He was
one of the pioneers in cavity wall tie and structural steel replacement in buildings, training and receiving accreditation from
"Ancon" in London in the late 1980s. A bricklayer by trade, Mark has over 35 years experience within the building industry
including new build, renovation, refurbishment and property maintenance in both the residential and commercial sectors.
Mark is also a registered building practitioner with the WA building commission; registration number 102556.
Mark also spent a number of years working in the specialised area of heritage building, assisting in repair and restoration work on listed
buildings, some dating back to the middle ages. As an inspector, Mark uses his experience in working within older buildings to identify and
diagnose problems that are only just beginning to prove prevalent within the Perth building industry, such as rusted wall ties & rising damp.
Prior to becoming a building inspector Perth, Mark attained formal qualifications in bricklaying, plastering, ceramic tiling,
structural steel replacement, renovation techniques, building inspections, timber pest inspections and thermography. Mark was proprietor of Cap-It-All Building Services here in Perth WA for 12 years specialising in insurance repair work to residential and commercial property
affected by vehicle impact, storm or fire.