Who regulates Blind Cord Safety?
As of January 1st 2015 the Competition & Consumer (Corded Internal Window Coverings) Safety Standard 2014 will take effect. This will be a mandatory standard that will apply to anyone in the business of internal window coverings.
Why implement this Standard?
Babies have died from being strangled in blind or curtain cords they accessed in their cots. The ACCC (Australian Competition & Consumer Commission) have published evidence that every year 1-2 Australian children die from blind and curtain cords and many others are hospitalised.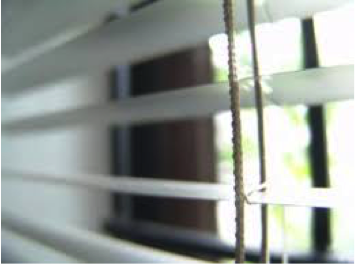 What are the key points of the Standard?
(1) A corded internal window covering must be installed:

a) in such a way that a loose cord cannot form a loop 220 mm or longer at less than 1,600 mm above floor level; and
b) using any components specified in the installation instructions as necessary to meet requirements for cord safety.

(2) A corded internal window covering must also be installed in accordance with:

a) the installation instructions on any retail packaging for the covering;
and;
b) other information provided in the installation instructions about how to install the corded internal window covering for the purpose of ensuring that a loose cord cannot form a loop as described in paragraph (1) (a).

(3) No part of a cord guide may be installed lower than 1,600 mm above floor level unless:

a) the cord guide will remain firmly attached to a wall or other structure specified in the installation instructions when subjected to a tension force of 70 N applied in any direction for 10 seconds; and
b) the cord is sufficiently secured or tensioned to prevent the formation of a loop 220 mm or longer.

(4) A cleat used to secure a cord must be installed at least 1,600 mm above floor level.
What can be done to ensure Blind Cord Safety around my home?
Unfortunately not all people are made aware of the potential hazards around cord safety. Installation of cleats are generally inexpensive & the following can be adhered to within your home:
Measure all cleats & ensure they are a minimum of 1600mm above floor level
Remove all furniture that may assist children in reaching cords
Make sure cleats are used at all times. It can be easy to forget or neglect to do so
Replace damaged cleats immediately. Unfortunately cleats can break with some regularity.
Try to maintain knowledge of standards & recalled products if possible. You can subscribe to email alerts from the ACCC here.
What is being implemented to ensure product safety around our homes?
As this issue is generally to protect babies & children, Product Safety Australia are implementing many measures to ensure the safety of our children. The safety measures taken are not only for blinds, but also other corded objects such as electrical cords. In fact, the ACCC has recalled products & implemented changes for items such as Bunnings match-stick roman blinds, IKEA Smila wall mounted lamps, & angel care baby monitors.
The ACCC also have a 'keeping baby safe' app, which is available as hardcopy booklet, eBook and now as an iPhone, and iPad app.